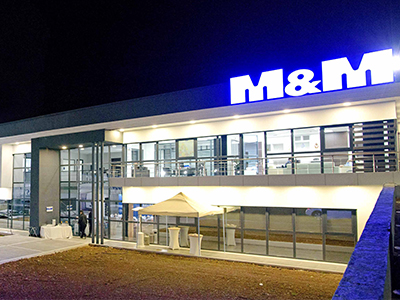 MILITZER & MÜNCH INVESTS IN NEW LOCATIONS
St. Gallen, 10 April 2019. The Militzer & Münch Group continues expanding capacities. Last year alone, the Group took into operation more than 19,000 square meters of new distribution centers and office space. Currently, a new warehouse is under construction in Bulgaria; in France, the Paris branch is preparing to move to a new logistics terminal that offers 60 percent more space. With its clear positioning and a successful development along the New Silk Road, Militzer & Münch can expand its activities and services.
The high demand for logistics space and services contributes substantially to the growth of the Militzer & Münch Group in many European countries. The forwarder benefits from this good development to expand its international portfolio and to continue growing especially in niche markets. "It is important that we adapt to the changing market and position ourselves clearly", says Guillaume de Laage de Meux, Member of the Board of Directors of M&M Militzer & Münch International Holding AG. "We aim to grow with the change and to further increase our flexibility. This also includes taking into consideration regional features, and positioning the Group sustainably in niche markets as well as in established markets."
In Paris, Militzer & Münch is currently making final preparations for the move – Militzer & Münch France relocates in July 2019, as the current warehouse has become too small. With the new logistics terminal, the previous warehouse area was increased by 60 percent and now covers 9,000 square meters. The terminal covers a total of 20,000 square meters, including office space and 25 loading doors. "With the move, the Militzer & Münch Paris branch can assure the smooth handling of all traffics and also has space available for new customer business", Guillaume de Laage de Meux says. "The additional capacities are to further boost the growth of Militzer & Münch France over the next years."
Growth in Southern and Eastern Europe
Militzer & Münch is substantially expanding business also in Bulgaria, Greece, Turkey and Belarus. In Bulgaria's capital Sofia, construction began this February on a new logistics facility covering roughly 2,600 square meters. State-of-the-art technology ensures that the building offers much higher capacities for cross docking activities. The extension has become necessary to meet the rising demand for LTL/groupage transports as well as the growing requirements of customers and partners. Plans are that starting in autumn 2019, Militzer & Münch Bulgaria will offer cross docking, interim storage and faster customizing and distribution at the new location.
In late 2018, Militzer & Münch Greece moved to a new distribution center near Athens, combining four regional warehouses in an approximately 13,600 square meter area. With the new, sustainable facility, the Militzer & Münch team can now focus more on value added services such as labeling, picking and packing, warehousing and customs management.
In Turkey, Militzer & Münch moved to a new office and rented a new warehouse last autumn. On a 5,700 square meter area in Istanbul near Muratbey customs office, the company offers a warehouse for trans-shipping and a wide range of logistics services. Most recently, Militzer & Münch Turkey registered growing demand for intermodal transports. The new location is situated at a major traffic hub for overland transports between Europe and Asia.
In Belarus, there is steady business growth, too. "We are working on further expanding our logistics services along the Silk Road. Belarus is a major hub between Asia and Europe", says Guillaume de Laage de Meux. "In Belarus, we handle transport orders with our own truck fleet. We also offer air and sea transports, customs clearance and hazardous goods and heavy lift transports." In Minsk, the country's capital, Militzer & Münch started construction on a new 2,000 square meter logistics terminal, mainly for express goods handling.