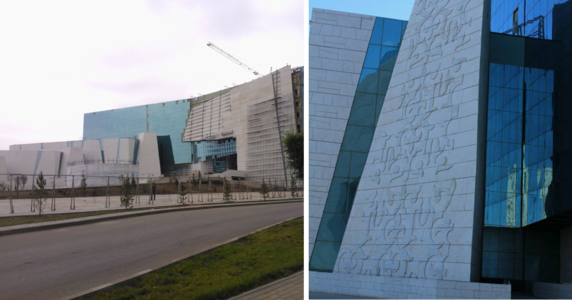 Granite for Kazakh History Museum
M&M Logistics has completed the complicated project of transporting granite needed for the construction of Kazakhstan History Museum in Astana
M&M Logistics has completed the complicated project of transporting granite needed for the construction of Kazakhstan History Museum in Astana. 370 containers of granite were transported from China to Kazakhstan by sea and rail.
The construction of the museum has historical and cultural meaning for the Republic of Kazakhstan. The museum space is 62,000 square meters. The basic purpose of the construction of a museum is preservation of the cultural wealth created by the Kazakh people during all historic periods and also to serve a scientific and educational function. As the Minister of Culture and Information of Kazakhstan noted, the Kazakhstan History Museum will be the richest treasury of culture in Kazakhstan. It will combine museums of history, gold, and art. The Museum will also display exhibitions of history and archeology, anthropology, gold and precious metals, and modern art. M&M Logistics is proud to participate in such a significant, momentous and important project of our country.
We have the latest fleet of advanced green carriers that provides high fuel efficiency, expert and licensed team of drivers, expert team of technicians and logistic support team, and so on. Our trucking service ensures you best quality services at all times, and our customer support is second to none, ensuring you stay updated with the entire process.