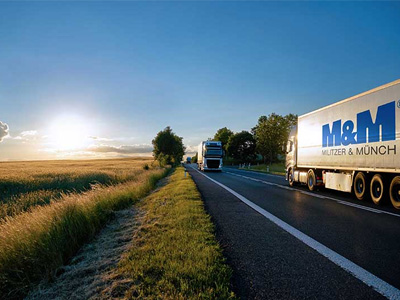 St. Gallen, 18 September 2019. The Militzer & Münch Group significantly expands transports between Germany and the Maghreb states. The first two quarters 2019 saw an increase in volumes by roughly 30 percent, with revenue even going up by about 40 percent, compared to the first two quarters 2018. Strong customer demand for textile transports to Tunisia and Morocco keeps boosting business.
Good order situation, bigger shipment volumes, an increase in turnover: apart from transports for the electronics, automotive and pharmaceutical sectors, Militzer & Münch concentrates more and more on the textile industry's growing demand for imports and exports along the Maghreb trade lane.
"The Maghreb states are one of our core markets", says Thomas Winter, Managing Director M&M Militzer & Münch GmbH. "We owe our intensive activities along this trade lane, among others, to the good trade relations between Germany, France and the Maghreb as well as to economic growth particularly in Morocco. In the past few months, especially our exports to Morocco and Tunisia as well as imports from Tunisia kept increasing."
Steady growth in Tunisia and Morocco
The Militzer & Münch branch at Eichenzell in East Hesse is the German hub for these traffics. "This is where our Maghreb experts handle operations", says Thomas Winter. "We organize the transport, draw up the export documents for our customers, and in cooperation with the Bad Reichenhall branch, we do the import customs clearance." For the trade lane, Militzer & Münch uses mostly truck transportation, but also offers air and sea freight solutions.
The Militzer & Münch country organizations in Morocco, Tunisia, Algeria, France and Germany cooperate closely on these transports. Not only is there the experienced team at Eichenzell; the staff in Morocco has long-standing expertise and its own good infrastructure: in Tangiers, the company operates its own customs terminal and disposes of huge storage areas. "The warehousing capacities and the fast clearance of the goods are a big advantage for our customers", Thomas Winter says. "Moreover, our tradeline managers regularly travel to Tunisia and Morocco to organize current projects with the local colleagues."
The teams at the Eichenzell branch, in Tunisia, France and Morocco are in contact on a daily basis and ensure smooth and fast communication. For transports between Europe and Africa, fast reactivity and flexibility are indispensable. At this time, the team is further extending the Maghreb trade lane, specifically the traffics from and to Algeria.